Self Published Sunday: Interview with Adrian Chamberlin
December 9, 2012
This week we are delighted to welcome horror writer Adrian Chamberlin .

Adrian Chamberlin is a horror writer from the United Kingdom. He has had a catalogue of short stories published in anthologies on both sides of the Atlantic, and his first novel The Caretakers was launched at the World Horror Convention in Austin, Texas, in 2011 to considerable critical acclaim.
He is a founding member of Dark Continents Publishing, a co-operative formed by six dark fiction writers who decided to take control of their writing destinies and self-publish their works through a co-operative model for mutual gain and benefit. Since its launch, Dark Continents Publishing has now become a respected small press publisher with writers from all over the world – including South Africa, New Zealand, and Australia, as well as the United Kingdom and North America – releasing critically acclaimed novels, novellas, and anthologies
What was your inspiration for The Caretakers?
The Caretakers was inspired by the Porterhouse Blue novels of Tom Sharpe and the song "El Presidente" by the band Drugstore (more on that later).
I wanted to write a fast-paced supernatural thriller in a similar setting. Oxford and Cambridge colleges are a real gift for the dark fiction writer: medieval settings and ancient rituals mingle with cutting edge technology, and so the shadow of the past looms large over modern city life. I spent a long time in Cambridge and soaked up a lot of the history and mythology, so I had fun incorporating real-life events into the book, such as the 1799 meteorite strike in Impington and the miraculous reappearance of a missing lady known as Elizabeth Woodcock.
Tell us about your book?
It questions the very nature of evil: the secret brotherhood is committing horrifying acts out of a mistaken belief that they are safeguarding the future of humanity. The good guys aren't your typical white-hats, either; Andy Hughes is an ex-con with a violent past that he's never been able to escape, and is prone to bursts of rage that threaten to destroy him and those around him. Rob Benson is a stoner, a guy in his early thirties who's never really grown up and wants to hold on to his student days – there's a lot of me in him, although I've never driven under the influence of booze or weed…
It's also a very British horror novel. Many UK writers have looked to the US for publication, as the British market is very limited and focussed on a specific type of horror novel; the current trend in modern UK dark fiction is focused on urban horror, and although city-based, The Caretakers doesn't really fit in that category. The trouble with the American market is while it is more inclusive, and open to the zombie and vampire sub-genres that are so sneered at in the UK, the editors tend to "Americanize" the dialogue and spelling to make it more suitable to their home market.
This novel has received some great reviews, with comparisons made to the works of Adam Nevill, Stephen King, Ramsey Campbell (Horrorzine), and is "the sort of book I wish Phil Rickman would write." (Jim McLeod, Ginger Nuts of Horror). It's steeped in ancient tradition and history – the events take place on midwinter's eve, and the prologue is set before Boudicca's defeat at the hands of the Roman occupiers – and the mythology behind the Green Man makes a strong contribution to the story, as I added my own interpretation of this mysterious figure's origins.
Despite the ancient rituals and mythology, the threat posed is one of cosmic horror: Andraste is not the Celtic Goddess of war Boudicca sacrificed to; it is something far more real…and terrifying.
What research did you do for this book?
Regarding the history of Cambridge and the legends of the Green Man, I used the library. I'd originally started the novel way back in the late 1990s, before the internet became what it is today, so back then there was no substitute for background reading in libraries. I also worked delivering office furniture to many of the colleges, which gave me invaluable experience in soaking up the atmosphere and asking questions from people the tourists never get to meet…
Are any elements of your book based on real life experiences/people?
Elizabeth Woodcock was a real person, and her story is a fascinating one (Check it out here).
I juggled around with her past to make her crucial to the events of All Souls College's past, and I'm pleased with the result. Andy Hughes is based on a person I met in another driving job, and Rob Benson is…well, pretty much me when I was in my early thirties. Jasper the dog was real as well, and is sadly missed.
What are you currently working on?
Fairlight is a Lovecraftian thriller that explores the world of teenage self-harming and takes it one step further by asking: what would happen if self-harming created portals through which demonic creatures could enter this world? I'm also co-writing a zombie apocalypse thriller with American author David Youngquist; he writes the events on the American side and I contribute the scenes of the same zombie outbreak on the British shores, and eventually his characters come to the UK to help defeat a new kind of zombie menace…and it's all set for a pulse-pounding climax in the town of Glastonbury and the slopes of Glastonbury Tor.
What inspired you to become a writer?
I've been writing ever since I could hold a pen. I had a love of reading fiction from a very early age, particularly science fiction, horror, and historical tales, and I wanted to create my own versions. I grew up in the golden age of pulp horror, so was heavily influenced by James Herbert and Guy N Smith. My first story was "The Octopus Rises From The Deep" in my primary school years, with a mutant cephalopod that goes on the rampage after eating a missing Russian nuclear missile! We had to illustrate our own stories as well, and I discovered my limitation as an artist…I knew then I'd stick to words.
What is your writing process?
I don't have a set routine as such, neither do I stick to a daily word count. I work full-time, so my writing time is limited to lunchbreaks and evenings at home. I'll just get behind the keyboard and let my fingers do the typing and see what comes out. Some evenings I'll get anything from 1,000 to 3,000 words done. I used to plan everything out to the very last detail, but now I just have an idea and roll with it. It means more work on redrafting and revision, but the journey is a much more fascinating one because the creative mind is free, not tied to a synopsis.
Do you use anything to sustain you during the writing process? Coffee? Chocolate? Music?
Music, definitely. I have BBC 6 Music as background, but if I want some mood music to help create atmosphere I'll put on Massive Attack's Mezzanine or a creepy film soundtrack (Jerry Goldsmith's Omen III: The Final Conflict, George Fenton's The Company of Wolves, and Tangerine Dream's Sorcerer work wonders). Coffee and chocolate help the energy and concentration levels!
What prompted you to self publish The Caretakers?
I hadn't planned to. I was sending the manuscript out to various publishers and steeling myself for the inevitable rejections while working on Fairlight. However, David Youngquist, Tracie McBride, John Prescott, Serenity J Banks and Sylvia Shults created their own publishing firm, Dark Continents Publishing, and invited me on board. One of the major sticking points with publishers in regard to The Caretakers was its length: 150,000 words exceed the maximum 100 – 120,000 word limit that most publishers insist on. Not only was it a chance to work with people I respected and had made friendships with, it made more sense than going completely solo. They agreed to keep the "Britishisms" in place, as one of our aims is ensuring the works produced reflect the atmosphere and settings of the country of origin, which made me very happy.
Can you tell us about the challenges in writing and publishing your first novel?
The challenges were ensuring the cover art and editing were of a professional standard. I asked Sharon Ring, a professional freelance agent and editor, to edit the manuscript and she did a terrific job, pointing out continuity errors I'd made in the narrative as well as basic spelling/grammar issues. She told me afterwards that the novel was a real pleasure to work on, and several times she was immersed in the story so much she found herself reading it rather than editing! Always a good sign when you've made an editor enjoy their task.
I approached Bristol-based fantasy artist Jethro Lentle for the cover art. I gave him a basic idea of what I wanted including, and then let him supply his own interpretation. The result is different to what I expected, but a beautiful piece of work which captures the dark atmosphere of the setting perfectly. Since then, we've commissioned him to produce several more pieces, and his art graces the covers of Snareville, Campfire Chillers, and the forthcoming Resurrection Child.
So the early work in production was rather easy: the contacts were in place, and they came through with outstanding results. The hardest thing, though, is getting readership. I didn't send ARCS out to reviewers prior to publication; neither did I seek "blurbs" from established authors (I was too scared to!). I'm not sure that's really harmed the book, as the reviews have been extremely favourable and word of mouth is spreading. However, like most first-time writers, I struggle with the self-publicity that is essential to the novel's success; I refuse to spam constantly on social media.
The other problem is getting bookshops to take copies. One of the biggest headaches all of us in Dark Continents have experienced is bookshops that take copies…and then don't pay their bills. Every single bookshop in the UK has been either slow in paying or refused to answer emails, phone calls, and invoices. At least with eBooks you don't have that problem.
Do you ever experience writers block? How do you overcome it?
Never. If anything, I have far more ideas than the time to put them into practice. On the rare occasions that I've been stumped for a story idea, I check the calls for themed anthology submission on Ralan and Duotrope; when I see an imaginatively titled project it sparks off more ideas. The best example of this was A.J. French's Monk Punk from Static Press, and anthology that created a new sub-genre: speculative fiction featuring monks, from the Western and Eastern tradition. Just seeing that kicked off an idea for a Lovecraftian story that featured an ex-monk from a modern day Brotherhood in England who believes he's escaped his past, until the day he almost runs over his mentor in a van…
Do you have any advice for aspiring writers?
Treat all advice with extreme caution. There are so many writers out there who blab on about "show, don't tell", "write what you know", and so forth. There are NO hard and fast rules, only guidelines; what works for one writer (and accepting editor) may not work for another. You have no idea if that advice will work for you until you try all options…and believe me, in anthology acceptances, luck plays a big role. So too, I'm afraid to say, does networking and "who you know". I don't play that game, because I don't like the politics in the small press scene. So many writers kissing arse and stabbing people in the back in the hope of getting in the good books of an editor. Don't do it; don't get involved in the politics and petty squabbles.
The only advice I would give is to ensure that the work you send out to the world – be it a short story submission, a self-published eBook, an agent query/submission package – is the best it can possibly be. You may be pleased with what you've produced, but don't rush it. Put it in the drawer for a couple of months and work on something else; when you come back to it with fresh eyes you'll see the errors and flaws that weren't apparent before.
What do you do when you are not writing?
Most of my spare time is taken up with work for Dark Continents Publishing. I edit and proofread manuscripts, and format all the eBooks for them. Any time left over is spent sleeping! I used to do a lot of archery; sadly, I haven't picked the bow up in almost two years.
What books have inspired you?
Every book I've read – regardless of genre – has taught me something or inspired me in some way. Each novel offers a different perspective on the world, seeing it through someone else's eyes and ears. The most inspirational books for me are the ones that bring the past to life – I'm a big fan of historical fiction – and the works of Bernard Cornwell are among my favourites, so much so that he inspired me to create my own series character in the form of Shadrach, a mercenary in the English Civil Wars who has another mission: battling Lovecraftian Elder Gods. The first instalment, Shadrach Besieged, will be published in the novella collection Dreaming In Darkness early next year.
What was your favourite book as a child/teenager?
As a child I devoured the pulp horror of the 1970s and 1980s, in particular the "nature gone amok" stories. I loved monsters – still do – and one of the appeals was not so much the guts 'n' gore but how mankind responds to this threat.
Peter Benchley's Jaws was my first introduction to this world, which I read when I was eight years old. Then came James Herbert's The Rats and Guy N Smith's Night of the Crabs. Even now, I find the stories I write focus more on supernatural entities and monsters rather than ghosts and serial killers. When I read Lovecraft's Call of Cthulhu I never looked back; this was my introduction to the Mythos and showed me a new way of creating monsters.
What are you currently reading?
The Moonlight Killer by Suzanne Robb. This is a departure for Ms Robb, who's made her name with zombie apocalypse thrillers such as Z-Boat and Contaminated; this novel is a murder-mystery with lycanthropic themes and comedy. Great fun.
What was the last book you recommended to a friend?
So many, I can't remember! I keep raving about Robert McCammon's The Wolf's Hour to everyone, twenty-three years since its first publication. A brilliant World War II thriller with a werewolf as its protagonist, it contains page-turning excitement with brilliant flashback scenes to how Michael Gallatin became a lycanthrope and how he struggled to come to terms with it. Quite simply the best werewolf novel I've ever read, and a masterclass in historical horror-thriller writing.
Paper, Audio or eBook?
I don't have much time for audio books, but I can see why they're popular. As to eBook or paper…really, I have no preference, as long as the price is right. When a publisher is charging more than the hardback price for an eBook that you don't really own you know something's wrong.
I read more paper books than eBooks because I can pick them up in charity shops for a couple of pounds, and then return them when I'm finished. But eBooks are invaluable for reading new upcoming authors who I wouldn't have known about otherwise; G.R Yeates's First World War-based The Vetala Cycle is one of the best works of the last two years, with its mixture of historical setting, military background, and supernatural terror. The books are critically acclaimed and sell well; they wouldn't exist were it not for the eBook revolution, and prove to the detractors that quality fiction really can come from self-publishing.
Just for Fun
If The Caretakers was made in to a film which actor(s), past or present, do you envision in the lead role(s)
Ah! Every writer dreams of their novel hitting the silver screen, and like them I have my own wish-list of actors. I'd like Sean Connery as John Franklin, the evil Head Porter, but most of all I would love to have David Warner play David Searles, the troubled Master of All Souls College. He would portray the perfect combination of magisterial gravitas and vulnerability that makes the troubled Master.
As long as Rob Benson isn't played by Danny Dyer, and Andy Hughes isn't played by Ross Kemp, I'm happy.
If your book had a soundtrack which artists would feature on it?
I've already got one! I created a wish-list of music I'd like to appear in the movie; I originally compiled a series of tracks that inspired me to write certain scenes or explore various themes, so tracks from the Manic Street Preachers ("Everything Must Go", "Yourself", "To Repel Ghosts") are on it, as well as Faith No More's "We Care A Lot" ( "it's a dirty job but someone's gotta do it" is a line that fits well with the duties the caretakers are compelled to perform); and Drugstore "El Presidente". That song in particular inspired the cosmic horror of the novel, as well as the inclusion of the Green Man. I'm sure it's not what the band had in mind when they wrote it!
Tea or Coffee?
What, no booze? *Sulks* Okay, then: coffee in the morning, tea in the day, and coffee in the evening. Then booze.
Slippers or barefoot?
Barefoot. Always hated slippers.
Shower or Bath?
Shower. I can't remember the last time I took a bath. (Cue lots of "Ergh! Chamberlin, you smell!" comments…)
Marmite: Love it? Hate it?
Hate is not strong enough a word for that "substance". It's veritable shit from Satan's own arse.
Email or postcard?
Postcard! I get enough bloody emails as it is…
Thanks for having me!

As a Cambridge College celebrates a midwinter feast, four uninvited strangers uncover a devastating secret. A secret that must never be revealed…for the love of humanity.
Andy Hughes – a man with a dark past and an even darker future. His search for a missing student will lead him to a confrontation with an evil beyond human imagining…
Rob Benson – a van driver who discovers a dead wild boar in the back of his Transit. A boar that just won't stay dead…
Jennifer Callaby – Andy's estranged girlfriend, who discovers the shocking truth of The Caretakers – and the sacred task that they perform…
Jason Franklin – a prisoner who holds the key to the fates of them all, and may well be their only salvation – if he doesn't destroy them first…
A disturbing thriller that questions the nature of evil and the price to be paid for the continued survival of the human race – a price that for some is too great to pay…
THE CARETAKERS – a Master's Degree in terror.
To find out more about Adrian and his work you can visit Dark Continents Publishing's website (here) or visit his personal website (here)
Caretakers is avaliable to buy from Amazon.uk, Amazon.com and Barns and Noble. Come back next week to read an excerpt from The Caretakers!
You May Also Like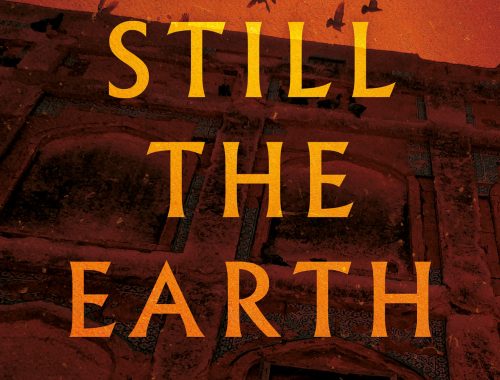 April 25, 2023
April 27, 2023