Masks
July 2, 2019
Nataly Restokian


Masks is a dark fictional tale, based on true-life events. It narrates the adventures of a young Armenian girl born in Lebanon in the seventies. She dreams of fame and power in Lebanon and the Arab world and shows resilience and motivation beyond her years. The novel delves into the world of the protagonist, Anna, who is surrounded by social, religious, and sexual taboos. She fiercely breaks the chains to enter the world she has strived to reach, in a seemingly conservative society barely emerging from a civil war. She builds her success on her remaining values, challenging her fate and sparing no way means to attain her goals.
As a disappointment to her parents, she walks the challenging paths alone, making her way toward fame and fortune despite lacking the support system to do so. Doors begin to open for her, and she enters the world of Arab celebrities. She is now a public figure in the Middle East, living an immoral married life in a materialistic world surrounded by influential business people and royal family members. She tries, in vain, to fill the void in her soul with sexual adventures and controversy by taking a wide variety of lovers. Her adventures invariably end in misery, doing nothing to awaken her from her numbness. Still, her vivid, out-of-control personality helps her move forward while simultaneously getting her in trouble. In the early stages of her life, she has suffered the unthinkable, being bullied and raped, with the civil war a constant backdrop throughout most of her childhood. The novel delves deep into Anna's mind as she has flashbacks of the trauma she has suffered, offering the reader a hint of an explanation for her behavior.
In a society in which men dominate women, she is one of the few who realize that fashion, social status, plastic surgeries, and bright smiles are not the answer to happiness. She lives in a world where a girl is only worth as much as her virginity, where women do not dare to ask for a divorce, where the fear of retribution keeps them locked in a cage that is very rarely gilded.
As fame, money, and power slowly eat at her soul, the arrogant Anna falls in love with a total stranger—a young, single bachelor from Canada—after a night of secret passion. That is where the story begins to unravel as she returns home with a scandal in her back pocket, her eyes and ears and heart tuned to this man instead of her husband. Anna realizes that neither her marriage nor her achievements have ever made her happy, so she decides to throw it all away. The lies and deceit that fill the so-called glamorous life she has been leading are floating up to the surface, including her husband's infidelity and the critical steps she has taken to reach the top.
Marriage, family, career—all destroyed to be united with the stranger. She starts a new battle, this time struggling to change her destiny for someone she barely knows, who lives oceans apart and offers her nothing except his heart.
She risks everything, turning her whole life upside down. Anna realizes that her happiness, inner peace, and love are found worlds away from her own, with someone she would never have expected to be her soul mate. Still, Anna's sacrifices are not behind her, and the struggle has not yet ended, although she has found what she has needed all her life: redemption and unconditional love.
The stranger enigmatically hints at emotions in Anna that have been hidden for a long time behind the masks of her dark and shallow lifestyle.
The characters in the story are the voices of so many who do not dare to speak up in a world where social and religious standards openly chastise the very actions that behind closed doors have become the ultimate paradigmatic way of life.
---
An Interview with Nataly Restokian
Why did you write this book?
Giving voice to many who do not dare to speak up, write about ideas that could inspire others, at the same time I feel writing books for me is a relief of pain ,of anger, of sadness and at the same time a colourful world where my joy, my imagination and my hopes are limitless and can have any ending I can choose.
As if I am giving life to new concepts and it is fun, it is my world where I am the one in control of all characters and events, and all could be decided by my own will, something none of us can do in real life.
What was your favourite part in writing this book?
Honestly I love all characters, but Anna the protagonist is my favorite character, because she is so controversial, she is charming, jealous, rebellious sexy somehow, sometimes evil, other times very soft and caring, she judges herself, she knows her faults, confesses her mistakes, and she is courageous, she never gives up.
She is so everyday character we see in ambitious women who do not give up in life ,she is the typical character of so many brave women who do not yield to any obstacles in life ,and though to reach their goals they give up a lot such as values in a male dominant world however they are beautiful souls who realize in the end that happiness is not based on money power or fame but on true love, a thought that unfortunately people rarely believe in its existence nowadays.
What is your favourite drink to consume while writing?
Coffee, I drink coffee with milk, then with cream, with different flavours such as with Mocha, Irish cream, vanilla, etc., I also drink hot chocolate, I think my stomach becomes a living walking coffee shop.
Bad habits when writing?
Where can I start? Besides drinking coffee, I eat a lot; my laptop needs to be cleaned every couple for hours. I talk out loud to myself, then suddenly I stop writing.
I call my husband to say I love him, weird, I know.
I scatter papers everywhere on my table, on the sofas in the basement, on the floor, because I write everything on papers then I copy them on the laptop.
I use colourful pens from dollar stores and write in different colours, and all my fingers will be painted.
I do not accept guests and do not chit chat with anyone except my husband.
I do not advise anyone to be around while I am writing, trust me; I am not fun.
How do you research your book?
I do not do any research my book; my life is my research.
Are you a plotter or pantser?
I think I am a little bit of both, I plan ,I think, then I write ,sometimes I plan then I change my mind, my imagination takes me to a different idea, I do not really know I think I am a plantser..(honestly I didn't even know what I should answer, I got confused, all I know is that my heart leads my plans and my persistence makes me plan the story )I hope my answer is okay.
If you could live in any fictional world, which would you choose and why?
No thank you very much, I do not wish to live in any fictional world, I mean let us think for a second in our daily lives we meet so many wicked people, and they hurt us enough with no magic at all, why will I want to to go to a world where heroes fight but also villains have super or magic powers? Seriously prefer the world.
If you could befriend any fictional character who would you choose and why?
I would choose the fairy godmother of Cinderella's is so nice, caring and loving.
All I must do is to keep the promise be back home at midnight and she can make all my dreams come true with her magic wand.
She is the best I love her.

Publisher: Tellwent Talents
Publication Date: March 2018
Format: Paperback
Pages: 256
Genre: Fiction
Age: Adult
Reviewer: Faye
Source: Review Copy
You May Also Like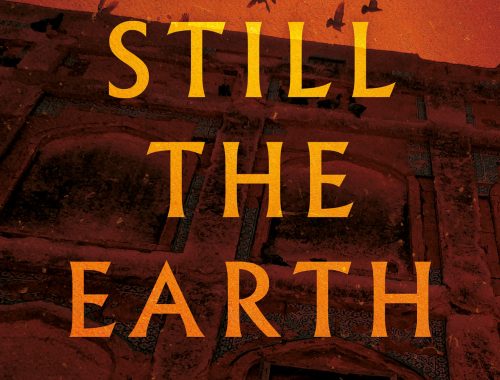 April 25, 2023
April 27, 2023