The Monumental Secret of the Crucifixion
February 15, 2019
Julian Boyle


Throughout the history of Christianity there have been those claiming a monumental secret. Often centered around the Church of St. Sulpice in Paris and associated with French esoteric circles like Debussy who wrote in a review:
"Perhaps it's to destroy that scandalous legend that Jesus Christ died on the cross."
But even Canon Alfred Lilley came back from St. Sulpice questioning the crucifixion. There must have been some documentation in the church that convinced these people of something portentous. BUT now searching links between the history of Rome and the latest Biblical research, we finally reveal the extraordinary facts that prove exactly what the monumental secret was and its validity making the revaluation of Christianity, as we knew it, inevitable.
---
TEN THINGS YOU DO WHEN YOU ARE NOT WRITING
1. GO TO BED. This is not a silly answer, it is very true. The reason I place it first is that it actually relates to my writing which is mainly non-fiction. I do nearly all my reading and research in bed. I should add that there are generally three times a day I go to bed. Once going to bed at night: secondly at siesta time: (my mum was Spanish so it comes naturally) and thirdly I often wake up around 3 am, get up, have a cup of tea and go back and read. This night one is a real test of the book as I either read pages and pages or it is so badly written that I drop off after a page. I have just struggled through such a book by a well-known Professor of Middle Eastern Religions (who shall remain nameless in case I meet him.)
I get my fiction from films so I mainly read non-fiction, related to historical subjects. You may think that being in bed is restrictive – but only in how bad my handwritten notes are. I write in the back of the book listing pages where there was something interesting. Here is the back page of my copy of Friedrich Nietzsche's autobiography 'Ecce Homo' (behold the man) Pilate's words when the flagellated Christ was brought before the rabble.
You see how bad my scribbles are. I was writing a play about the tumultuous relationship between Nietzsche and Richard Wagner. And as I read I marked interesting statements or events. Then when I started writing I would write, Wagner accusing Nietzsche of being rude – so I look at the back of my books and find here – 14 Rudeness (top right) – turn to page 14 and insert it into the writing to make Nietzsche reply, "Rudeness should not be undervalued, it is the most humane form of contradiction."
Or alternatively there is a statement where Nietzsche 'attacks' Wagner, -17 Attack (top right) – and I wind the conversation round to it. "My friend you are applauded by a culture that confuses the artful with the rich and the late with the great." The part in italics is his written words. So you see how the basics of the play all come from my research in bed.
We put the play on in Edinburgh and the official Review wrote 'How anyone could write such an intelligent, seem-less script analyzing the complex ideas of the composer Richard Wagner and the philosopher Friedrich Nietzsche is beyond me. " But the thing is, it is beyond me too – I have shown you the mechanism but I still don't quite know how it all came together, it just seemed to happen, thanks to all that preparatory reading in bed which maybe sank in to my subconscious as I fell asleep. Performing the play was both scary and exciting as it has music section that synch with the dialogue. The ending was tremendous as it used the 2001 theme that Straus wrote for Nietzsche's 'Thus Sprake Zarathustra" while Nietzsche goes mad on stage. As most of the play takes place in the Turin Lunatic asylum, we were able to film it cheaply. An American Philosophy magazine wrote glowingly saying it was 'Masterful' and now it is used in US Universities as a teaching aid. – https://goo.gl/ofmqeo
2. MAKING FILMS. Of course when I am not writing I am making films as that is my main job. Writing is extra. I either am directing my own films or editing or shooting special Fxs for friends like Terry Gilliam. I also direct Pop videos. You might remember Kate Bush's 'Cloudbusting' with Donald Sutherland, which I directed. After that I got lots of girl singers asking me to do their video. But then Iron Maiden got in touch to do their clip 'Can I Play With Madness' and I lost all my girl singer requests and only got Heavy Metal Bands instead.
3. HUSTLING. Of course making films requires a lot of hustling to get them off the ground. I am totally useless at the process. I couldn't even sell a bottle of water to someone lost in the desert. That is why I really enjoyed doing the play 'Twilight of the Gods' as one writes it, casts it, hires a venue and go straight into production without all the hustling.
4. SPORT. I play football twice a week and squash. One of the football games is with a bunch of celebs, like Alan Davies and Mark Stong, the game is organised by the playwright Patrick Marber. I think I have a hunters instinct and where I don't like running or swimming back and forth, if you give me a ball to chase I am off on the hunt. I have been injured the last few months and from not playing I got a clear understanding of the difference between squash and football. I miss the squash running and chasing the ball down, the physicality: while football is a team came and in defence (where I play) it is about making rapid structural decisions about your own position and moving your fellow defenders around you. These decisions are too quick to be made consciously so clearly they are being made by the right side of the brain. I am very, very left sided, brain wise, and I think football is one of the only activities I do where I know I am using the right only to make decisions. And I am missing it.
5. AVOIDING WINTER. I think it is my Spanish blood that makes me hate being in the UK over winter. In the old days I was tied to a desktop computer to write. This was also true for editing films. Originally, like on 'Life of Brian', we edited the actual film in an editing room. Then things changed to computer editing. Terry Jones and I bought one to edit his film, 'Wind in the Willows'. It cost in all £65,000 plus five big heavy 9 gig. drives, costing, can you believe, £2,000 each. Forty-five gigs, we thought we were the bees knees. Of course after two years we had to throw the whole thing in the bin as we couldn't even give it away. Now with my trusty laptop I am free to head south. I can write and even edit anywhere. I remember editing my film 'Chemical Wedding' on an aeroplane. And that is my very favourite place to write somewhere warm like Tenerife, just 4 hours away but under palm trees and dripping bougainvillea, with the sun glistening off the sea. I remember the Python's going to the Caribbean to write 'Life of Brian'. I think it was a tax dodge – but under those tropical skies they did a wonderful job. At home I have a study but I don't write there. My bedroom is at the top of the house with a balcony overlooking London and I have put a desk up there and that is where I write. Perhaps I need to look up from my work and have a view. Perhaps it is one of my skills, having a good eye as I direct and light films. I can spot a good shot not intellectually but emotionally. I love places where the sun sets over the sea, for instance my favourite place in France is Biscarrosse Plage near Biaritz on the Atlantic coast, as you can sit and have your sardines with a glass of Bordeaux and watch that magical moment as the sun goes down over the sea. I was once in Goa, which also faces the sunset over the Arabian Sea. Nice place but you must take your mosquito tablets. On the first day I went down to the beach got a beer and sat watching the sunset. Nothing! I felt nothing at all. Must be the jet lag. But the second day the same. And there I was again on the third with my beer and feeling nothing. Something was wrong. I stopped taking the malaria pills. Next day the sun fell towards the sea, the beer in my hand glowed, my heart swelled, I was back to normal. Those bloody pills were dumbing down my senses. That is when I realized I was not reacting intellectually to visual beauty, but emotionally. This was weird for me as I am very, very left brained. I wondered how anyone could live like that without being inspired by visual beauty. In every place I go my family know I have a sunset bar. One of my favourite unspoilt villages in Tenerife is El Medano. Although it is actually on the east coast there is a projection into the sea and there is my Sunset bar where you will find me at around 6.30 with my glass of wine.
6. THE PUB. Working on the computer all day makes you feel a bit isolated so I tend to pop in the pub in the evenings, not to talk but just to be around people. I have some pretty rough pubs I like to go in as you get more animated people in them. But if there is a time limit on my work I will take the laptop with me and write there with a glass of wine and a sandwich. Posh pubs don't let you eat your own food in them. I was watching football on the TV in the Boston, one of my rough pubs, and a Film Director friend, Sam Miller came in and spotted me in the corner. I told him I was in the corner because I was having oysters with my wine and the locals would be a bit put off by me slipping live oysters down my throat. Sam plays football in my celebs game he enjoyed telling them with great glee how he found me in the corner of the rough old Boston, sipping wine and eating oysters.
7. LECTURING. I do several types of lecturing, sometimes in Film Schools like the London Film Academy or the Havana Film School. Other times in Universities like Sheffield or Penn State in America. In these academic institutions I talk on a variety of subjects, from Film Directing, Film Lighting and editing. But I also give informal talks to clubs and association and then I talk on more popular subjects like 'Making Films with Monty Python." I am now being invited to talk about crucifixion as I am now an expert after Crucifying the Pythons. Favourite amongst Python fans is that I was the Policeman who brought 'Holy Grail' to an end. Well we didn't have much money and all the crew had to be extras.
8. FAMILY LUNCH. My Spanish mother always liked us to all get together for lunch and even after she died we still get together for a Sunday lunch or an evening birthday celebration. My brother and I; our wives, our kids with their spouses and the grandkids. At Christmas there were 15 who sat down to dinner. We celebrate Christmas on Christmas Eve, the Spanish way, which works out great because as most families go through several partners, nowadays the family come to us for Christmas Eve and then to the other halves for Christmas day. Works perfect. The other good thing about Christmas Eve is that we can have Father Christmas come after dinner. My house has a pitched roof at the front but a flat roof at the back so Father Christmas appears on the roof and all the kids are told he is on the roof. They run out and from the front it looks like he is walking on the pitch of the roof. We adults take turns in donning the costume, and it was my turn this year. I gave such a great performance, I fooled everyone under 4 years old.
9. SHOPPING. As I do quite a bit of cooking I also pop down the shops and shop for the basics. Our High street has about 8 charity shops and a car boot sale every Saturday. My wife loves the Charity shops and I have been amazed at the sensational clothes she has bought there. So I have found myself, after shopping for the food, joining her in her quest for a bargain, and have pulled some great bargains for myself.
10. PHOTOGRAPHY. I am not an avid Photographer but there are moments where I feel I must capture the image. We can be walking along and suddenly something gets me. Here for instance we were walking along the beach at Hollywood. (No not Hollywood, Los Angeles as there is no beach there, but, Hollywood Florida.) I said to the wife, "Stand on that wall." And got this classic picture. You cant see she is on a wall but at ground level it would not have worked.
---
Publisher: Chippenham Books
Publication Date: May 2018
Format: Paperback
Pages: 217
Genre: Non-Fiction
Age: Adult
Reviewer: Faye
Source: N/A
You May Also Like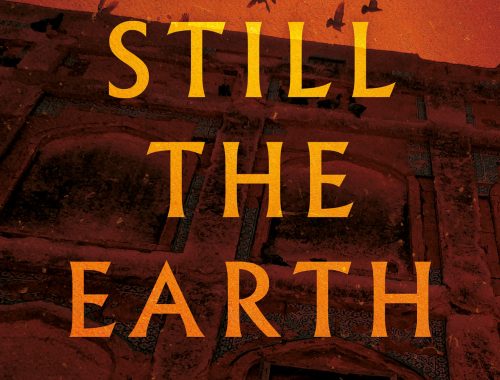 April 25, 2023
April 27, 2023