Apotheosis
October 13, 2018
Brian Paul Bach


Butterbugs is somebody now. He has arrived – at the top. In fact, he's much higher than that. Ultrastardom, they call it! As the world's first ultrastar – and trillionaire – he is still compelled to act for acting's sake alone. Taking the lead in the most ambitious film ever, he will need all his gathered resources for the staggering job ahead.
Butterbugs is a phenomenon for billions. His own depth of character and the diversity of creatures around him constitute a power and influence far surpassing any strolling player's entertainments. However, not everyone on Earth is so dazzled. Well below his stratospheric plane, undercurrents coil in unholy pools.
The screen upon which APOTHEOSIS shines is gigantic, as befitting the story that commands it. FORWARD TO GLORY is nothing less than an epic-noir-satire. The momentum built by TEMPERING and EXPOSITION does not let up for a second. By its very name, APOTHEOSIS propels the reader toward its merciless climax with determination and grandeur.
Butterbugs is truly blessed with friends and associates who share his triumphs: Saskia and Justy – closer than ever; Sonny Projector – agent and champion; Edna Tzu – favorite director and facilitator; Hyman Goth – studio mogul with a dreaded knowledge; Mayella – stabilizing lover; Egaz – transcendent director and artistic equal; Keenah – the mate Butterbugs has waited for… possibly; The Seven Muses – who inspire the ultrastar in his most challenging role; Marshall – the disabled vet who changes the course of the nation; and Heatherette – always a force for good, who reappears at the perfect time.
---
What is your favourite thing about writing books?
I have always enjoyed the basic fact that writing books allows for complete freedom. Freedom to invent, describe, and choose how to put it all together. Whole worlds can be created, but you have to be decisive and totally committed to defining and developing them. These freedoms are certainly enjoyable, but the writer has to be responsible for them, and that I'm happy to do. Similarly, writing that's meant for a specific purpose, such as nonfiction or reportage, can and should be approached with some sense of creative style. Currently, readers tend to want just basic informational writing. But I think a bit of individualistic style is appreciated. Writing a book is also an ideal way of just being myself. And sometimes, for all of us, that takes some doing!
Who is your favourite character in your book and why?
I like Heatherette quite a lot. She's an ongoing character throughout all four volumes of the Quartet, a bit elusive at times, but absolutely vital in the full spectrum of Butterbugs' development as the main character. In effect, she provides a sort of framework in which he acts and reacts. She might be branded as 'eccentric' because she lives alone in a huge mansion full of ancient and arcane cinematic relics, and her ambience is mysterious and stylish, but her personality is profound, and her passions sincere. Her character finds complete fulfilment in vol. 3: APOTHEOSIS.
What is your favourite drink to consume while writing?
Plain, boring water serves as my main hydration while the keyboard is touched. Occasional bubble-juice, but never coffee. I know I'm an oddball in this respect, but I'm just not a caffeine hound. When reviewing the day's digital scribblings or adding a few choice bits after dining, I take wine. A nipperkin of Fernet or Calvados or brandy or even – dare I say – Absente, serve as day's end rewards. But booze offers no creative stamina for me. On late Sunday afternoons, whether writing or not, my wife Sandy and I take Champagne in the company of our two pups, Hudson and Bucky.
Do you have any bad habits while you're writing?
Nothing too terrible, because shirking doesn't occur when I'm writing, only before!
How do you research your books?
Even though I initially thought the old line, 'write about what you know' too confining, I guess that's what I've done. My books on travels in the Indian subcontinent and Calcutta architecture were based on firsthand experiences on the spot. Everything was then augmented by any materials I could get my hands on, and this was in pre-internet times, too. In vol. 4 of the present FORWARD TO GLORY Quartet, I've included an extensive concluding essay, 'Notes On Sources', that discusses all the experiences and influences, atmospheric as well as authentic, I gathered over the years to make my saga, set in the world of the cinema. Also, valuable research came in the form of a lifetime watching movies themselves.
Are you a plotter or a pantser?
I tend to start out as a bit of a plotter, but the pantser instinct takes over a few paragraphs later! The 'fun factor' is pretty important in my approach to writing. A plotline is certainly a secure notion that can always be played with, but moving forward, whether its while staggering or gliding, works the best for me. It's the most enjoyable route to take, and the most rewarding, too. Besides, pantser material can be captured, tamed (but not too much), and adapted for any plotting requirements that will inevitably pop up.
If you could live in any fictional world, which would you choose and why?
After I read Tolkien in my middle school years, I used to say I'd give anything to wake up one day in Middle Earth. It was an attractive notion. However, the intense realities seen in Peter Jackson's definitive filmization of 'The Hobbit' and 'The Lord of the Rings' causes me to wake up every morning, relieved that I'm not in that compelling but totally hazardous environment! These days, I'd be happy settling down in the charming and quirky world of Rowland Emett's delightful children's tale, 'New World For Nellie'. It begins with: 'Tucked away in a forgotten corner of England, where the main lines never go, was a railroad that had seen better days. There was only one rusty old engine called Nellie, and two coaches…'
If you could befriend any fictional character, who would you choose and why?
In earlier years, it might've been Milo in Norton Juster's 'The Phantom Tollbooth'. He was kind of a dull kid, but his adventures were amazing, and I'm sure I could've talked him into letting me drive his toy car for at least part of the way. It would've been cramped with Tock the Watchdog along, but totally worth it. These days, it'd be intriguing hanging out with Pierre Bezukhov in Tolstoy's 'War and Peace'. As a witness to grand historical events, and with a thoughtful and questing mind, he'd be an awesome brain to pick. I'm so glad he ended up with Natasha. After so much war, there was peace.

Publisher: Clink Street Publishing
Publication Date: October 2018
Format: Paperback
Pages:
Genre: Fiction
Age: Adult
Reviewer: Faye
Source: Review Copy
You May Also Like
April 27, 2023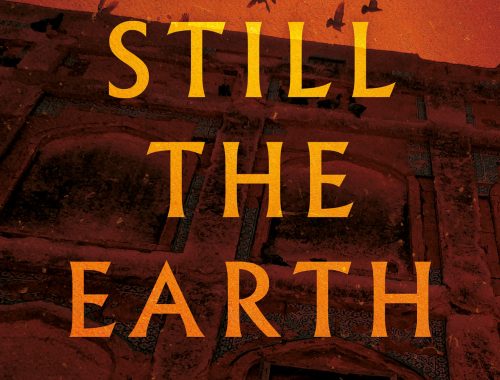 April 25, 2023