Outremer II; Revelation Cometh
September 27, 2018
D. N. Carter


Christian-born Paul Plantavalu and his beloved Alisha al Komaty, a Muslim, share an unbreakable bond and a deep love for one another. Religion, war and politics oppose them at every turn. But most deadly of all is the resolve of an evil enemy determined to destroy their family lines forever.
Paul and Alisha's journey takes a political turn; they must question everything and learn who to fear and who to trust as they continue their battle to safeguard the future of mankind. In accepting the burden of this grace responsibility, they must make peace with the difficult path they have chosen. Paul will struggle to unlearn everything he has been raised to accept as true; reality is much more mysterious and nuanced. It will fall to him to defend a much greater treasure than his own life – one which the Magi themselves understood – for the benefit of future generations. In doing so, Paul will help others to unshackle themselves from the grip of a self-styled secret elite with the power to manipulate religions, governments and monarchies, harnessing wealth and control for themselves at the expense of the populous. But to succeed in this challenge Paul must face his own desires and his worst fears, and if destiny dictates, he may be called to sacrifice his own family, including Alisha.
The second novel in author and adventurer D. N. Carter's epic four-part series, Outremer II: Revelation Cometh draws upon forty years of intensive historical research by its Indiana Jones-style creator. As the reader is swept up by the romantic adventure of Paul and Alisha and their dazzling romp through the High Middle Ages in search of Templar truths and treasure, they are also challenged by the author to solve a coded puzzle hidden within the pages of the four Outremer novels, which will lead to a real-life bounty at the conclusion of the series!
---
What is your favourite thing about writing books?
That I am able to share information I think is important and very relevant to all of us but hopefully in an engaging and enjoyable format. I love it when I start writing about a character and how it develops, sometimes in a direction I did not originally conceive. I love how I can be writing one event and from nowhere it suddenly moves in a totally different direction.
Who is your favourite character in your books and why?
This is a very difficult one to answer with a definite individual as they all feel so real and close and all with their own distinctive character attributes. It would have to be between Tenno and Theodoric. Two very distinct but strong characters almost opposite in their natures and stature but sharing a common cause. Both have travelled extensively, were warriors and each equally highly intelligent and educated. They had mysterious pasts and were guarded in revealing too much about themselves. Tenno I feel tips the balance as my favourite. Very mysterious and enigmatic but also very deadly.
What is your favourite drink to consume while writing?
I think my family would agree it would be fair to say I should purchase shares in coffee bean suppliers.
Do you have any bad habits while you're writing?
Not using the same cup twice and leaving a long line of used empty coffee cups…in fact I leave them everywhere. Working too many hours, often well into the early hours and totally immersing myself in writing to the total exclusion of everything else around me.
How do you research your books?
I started when I was very young and simply accumulated my research over the years. It started in the library reading books about knights in the Middle East when I was living in Cyprus. This prompted visits to various castles and monasteries and even more books. I read Peter Lemesuriers book 'The Great Pyramid Decoded' which spoke of advanced construction techniques and codes within the dimensions of the Giza plateau pyramids and that they were not simply burial tombs. He taught me to always question everything, including the source of any material I research. My second volume of Outremer is dedicated to him. I research using academic journals, historical reference books to documentaries, ancient parchments and scrolls when given access to them. If I needed to know anything about the uniform and armour of a Knight Templar, there is a wealth of information about it. I even tried on and wore a full set for several hours to understand and experience exactly what it was like to wear, plus a full face great helmet. I learnt how to wield a sword professionally, how to couch a lance and even ride a horse. I believe in experiencing things like that in order to write an authentic account of how it feels. When researching elements of my story, such as the siege of Jerusalem and the history changing Battle of Hattin, I came across many conflicting versions of exactly what happened. To gain a true insight I had to study manuscripts and journals of scribes from both sides of the conflict. I believe I have presented as near an accurate version of what really happened, with the added propaganda duly stripped away.
Are you a plotter or a pantser?
I am a plotter definitely. With all the historical and religious research involved, I had to be accurate in what I was conveying. I started with a 172 page plot outline that had a beginning, the main points, actions, characters and factual historical information I wanted to detail, and the ending. It was then a case of fleshing it out. 1,234,000 words later I was finished.
If you could live in any fictional world, which would you choose and why?
It would have to Pandora from the film Avatar. I love the idea of a totally unified way of life between its inhabitants, wildlife and nature itself. Taping into the forest trees directly and being a living part of it.
If you could befriend any fictional character, who would you choose and why?
It has to be Yoda from Star Wars. It would be great to learn how to use the 'Force' but also his deep insightful wisdom.
About the Author
D. N. Carter has enjoyed a lifelong love affair with archeology, cartography and the history, myths and legends of the Middle Ages. He has travelled extensively across Egypt, the Arabian Peninsula and the Languedoc region of France, which has long been associated with the Templar Knights and grail quest mythology. While not decoding maps and mathematical codes, D. N. Carter enjoys adventure sports and spending time with his family between East Anglia and the South of France.

Publisher: Clink Street Publishing
Publication Date: September 2018
Format: Paperback
Pages: 688
Genre: Historical
Age: Adult
Reviewer: Faye
Source: Review Copy
You May Also Like
April 27, 2023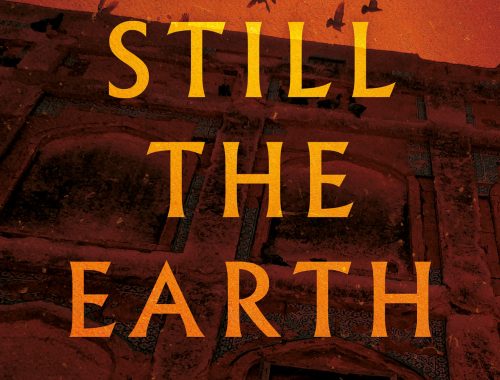 April 25, 2023