Beardies' World
September 27, 2018
Joyce Ives


If you already have a dog/dogs or are even thinking of buying one, read this book, which shows what fun and laughter we had with ours over twenty-six years, making a lot of friends along the way.
This book is Joyce Ives' narrative to the twenty-six years she and husband John owned, cared for and loved their four Bearded Collies. The memories shared by Joyce in this book are likely to touch the heart of anyone who has had any experience of growing up and growing old with dogs. In her narrative Joyce has been able to capture beautifully how our special bond with our canine friends often becomes so significant in our life's journey; our experiences of joy and laughter and at times our sadness and loss.

---
What was it like writing from the perspective of your dogs?
I enjoyed working on it when I had time. I acquired my first Bearded Collie in 1986 with the help of a young lady who worked in the same hospital as me. Pam worked in the Pathology Lab and I worked for the Personnel Officer in Administration. Pam had four Beardies and she helped me find a litter. We were good friends for years until she passed away suffering from cancer.
I fell in love with the Breed, they were such entertaining fun dogs, bouncing around with their long hair flowing. I joined the Southern Counties Bearded Collie Club and they had a magazine which came out in the Spring and Autumn. In this magazine people wrote about their Beardies and what they were experiencing. Beardies are happy dogs and when they are treated well they let you share in their exuberance. I decided to write a diary with our first Beardie Kizzy telling what she experienced when being separated from her siblings and living with my husband and myself.
From a baby I was brought up with a Chow Chow, she was quite staid, and although we loved each other, when I got older I found her boring. My grandparents had a Pembroke Corgi who lived a few doors away, what a different character, she was always ready to share happily wherever I took her. After marrying, we had our first dog a Border Collie cross and our children grew up with her. I got an insight as to how she was feeling, we could read each other's minds.
Back to Kizzy, it was far easier to read her mind and observing her every day, I tried to see her point of view working out in her brain what we did and why we did it. I sent off my article to The Beardie Times but it was refused and I felt totally deflated. Then the Editor changed and I submitted Kizzy's story again and it was accepted. The Club besides showing, had three events a year, Spring Frolic, Strawberry Tea and Tramps Tuck-In. We attended all these events, mixing and making friends with other people with their Beardies. Six months later after I had submitted Kizzy's continuation of her diary, I was getting reports back as to how Kizzy's life including Emma's who had also joined us, was being well received. So I continued their diaries with their point of view living with us, not the other way round for twenty-six years, including our next two dogs.
What was your inspiration for this book?
When I was about eight years old, my grandfather my father's side handed me a beautifully illustrated book of poems following the adventures of his dog Monk in 1919. It was made-up adventures and I have always treasured it. The watercolours are still vibrant. One day I might get it printed, children should love it. Enjoying this book my grandfather wrote and reading the Beardie Times articles, this was the push I needed to write my dog's diaries.
The hard question, who was your favourite?
All our Beardies were lovely and each had a different personality. Kizzy was the thinker and as she matured, she preferred to watch the others rather than get involved in their pranks. Emma was a very pretty girl, a fawn, biddable and had it in her to protect us, ie a Rottweiller attacked Kizzy while out on a walk and she dived straight in chasing the dog away, the owner was nowhere to be seen. We did a lot of woodland walking, and lucky to have four different woods nearby to walk in. If out in the woods a man approached without a dog, Emma immediately returned to my side keeping a close watch on him and once he had passed by, would race off again to join the others. Unfortunately, she became ill with Addison's disease, 'the adrenal gland stops working and that affected her whole body', humans can get this too. So of course I returned the favour and especially looked after her keeping her comfortable for as long as I could. Muffin my third Beardie was the softest sweetest girl, who followed her mother's demeanour. I hardly ever had to ask her to come to my side, she knew when I wanted her and would come looking up telling me 'well I am here – I suppose you will have to call the others.' I knitted her a soft doll which she adored and when the others were playing around in the garden with their hard toys, she joined them carrying her dolly in her soft mouth. None of them were allowed to carry it and Kizzy and Emma knew that. Solei joined us after we had lost Emma and she was my only puppy that chewed everything she could find, she was also quite a nervous girl and didn't like sharp noises. Unfortunately, she wasn't a healthy dog suffering with inflammatory bowel disease and had to be fed a special diet. This was followed by an underactive thyroid gland and then finally liver disease.
Every Beardie we had was extremely special in different ways, but both my husband and I agree that Muffin was our favourite.
Do you live with any dogs now?
No, even before losing Solei, I was having trouble with my knees and was finding our large garden too much as I always kept it immaculate, also my husband's health was declining and at that time it wouldn't be fair to have another dog. We moved down to Seaford, East Sussex into a McCarthy & Stone Assisted Living Complex. If a buyer already owned a dog or cat you were allowed to bring it with you, but once it had died you are not allowed to have another one. Another downside is that animals are not allowed in the lounge and of course not in the dining room. Beardies are very friendly sociable dogs, even the dog living here now pulls on her lead wanting to come into the lounge to say hello to everyone, it is heart breaking. Rules are rules and this rule was made because McCarthy & Stone says not everyone likes dogs.
What is your favourite thing about owning a dog?
Having a dog in your life if you are on your own, you are never lonely, although so far I haven't experienced this as I still have my husband. On a quiet day just hearing your dog drinking from the water bowl, an occasional sneeze, coming up to you, giving you a loving nose nudge and a tail wag makes you happy. Any dog loves to be groomed, it is all part of the bonding and being loved.
Whatever the weather a dog's needs is to go out for a walk. Opening the door and stepping outside into the fresh air, whether it be raining, windy, snowing or just a lovely day. Meeting other like-minded people exercising their dogs and having a chat and watching the dogs gambling about and chasing their balls. Their happiness is your happiness and returning home and seeing them settle down relaxing until they sense that they are going to be involved in doing something else with you.
Would you ever own a different breed of dog?
If I had the chance of having another dog again, yes, I would change to a different breed, but smaller, perhaps a cockerpoo, so again there would be no moulting of their coat. There is no room in our flat to be able to properly groom a Beardie. I would have an open mind, there are so many dogs in rescue cry ing out for a loving home.
About the Author

Ever since she was a young girl, Joyce Ives has had a soft spot in her heart for dogs. So when the time came, she decided to leave her full time job to become an owner to her very first Bearded Collie – Kizzy. After this initial decision, they soon become owners to three other beautiful Beardies – Emma, Muffin and Solei. Unfortunately, due to ill health, both Joyce and John no longer look after any dogs but Joyce will always dream of owning more. Joyce now resides in Seaford, East Sussex, and is glad to finally have had time to write her first book.

Publisher: Clink Street Publishing
Publication Date: September 2018
Format: Paperback
Pages: 222
Genre: Non-Fiction
Age: Adult
Reviewer: Faye
Source: Review Copy
You May Also Like
April 27, 2023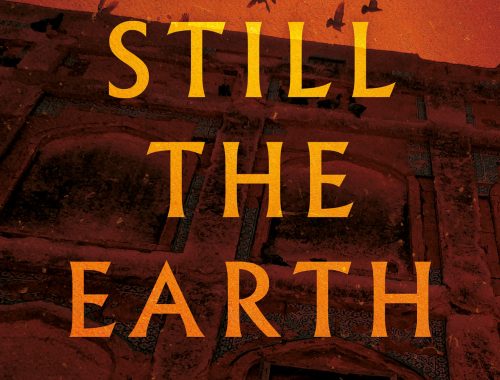 April 25, 2023