Five Fabulous Books…Which Feature Imaginary Friends
April 28, 2014
Five Fabulous Books is a new feature here at Big Book Little Book. The aim of the feature is to showcase fabulous books with connecting themes, there by promoting reads we have enjoyed and share recommendations for similar books. We hope to share contributions from fellow bibliophiles, bloggers, vloggers and twitter users. We love to hear from you too, so don't forget to comment with your favourite themed books. If you create your own Fabulous Five posts be sure to link back to Big Book Little Book and leave your link in the comments below so we can check out your recommendations!
Playmate, confident or scapegoat?
The five fabulous books I have selected to showcase this week span the age categories and all feature imaginary friends (or do they?!).
I find the idea of Imaginary friends fascinating. Perhaps it stems from enviously watching my younger brother with his imaginary friend. The tale of his epic meltdown, when my aunty forgot his best friend "Boy", is legendary within our family. He refused to calm down, or leave the building until he and my aunty had retraced their steps, taking a lift back up to the twelfth floor to collect Boy!
I suppose that my attachment to fictional characters is like having hundreds of imaginary friends within the pages of my beloved books.

There's A Dinosaur In My Bathtub by Catalia Echeverri
Only Amelia can see Pierre, because he is very good at hiding. The two have the most amazing summer full of adventures at sea, on the moon and in all kinds of magical lands. But everyone knows that French dinosaurs like Pierre only get to stay in people's bathtubs for the summer.
This lovely picture book from Bloomsbury showed up on our door stop unexpectedly one morning and has become a firm favourite of both my four and six year old, a rarity recently, resulting in a harmonious shared story time.
Publisher: Bloomsbury Children's
Publication Date: April 2014
Format: Paperback
Pages: 32
Genre: Dystopian
Age: Picture book
Reviewer: Caroline
Source: Provided by publisher
Challenge:
Squishy McFluff by Pip Jones
Can you see him? My kitten? Close your eyes tight
His fur is so soft and all silvery white
Imagine him quick! Have you imagined enough?
Oh, good, you can see him! It's Squishy McFluff!
When Ava discovers an imaginary cat in the cabbage patch, she knows she's found a new best friend. Together, Ava and Squishy McFluff get up to all kinds of mischief…
This gorgeous rhyming book has delighted both myself and my six year old daughter. The rhyme, the font and the division of the story in to chapters all led themselves to independent reading however, the cheeky humour is a delight for early and *cough* more mature *cough* readers alike. I defy you to not gobble this up in a single sitting, with or without your own mischievous Ava as a captivated audience.
Publisher: Faber and Faber
Publication Date: February 2014
Format: Paperback
Pages: 80
Genre: Children's, Humour
Age: Early Reader
Reviewer: Caroline and Ava
Source: Provided by publisher
Challenge: British book
A Monster Calls by Patric Ness and Jim Kay
The monster showed up after midnight. As they do.
But it isn't the monster Conor's been expecting. He's been expecting the one from his nightmare, the one he's had nearly every night since his mother started her treatments, the one with the darkness and the wind and the screaming…
This monster is something different, though. Something ancient, something wild. And it wants the most dangerous thing of all from Conor.
It wants the truth.
Karen says "Verdict: This is a book, even in it's Paperback form that will be treasured for it's outer beauty and for the heart wrenching story within"
Read Karen's full review here
Publisher: Walker
Publication Date: February 2012
Format: Paperback
Pages: 216
Genre: Fantasy
Age: Middle grade
Reviewer: Karen
Source: Own copy
Challenge: British book
Unspoken by Sarah Rees Brennan
Kami Glass loves someone she's never met . . . a boy she's talked to in her head ever since she was born. She wasn't silent about her imaginary friend during her childhood, and is thus a bit of an outsider in her sleepy English town of Sorry-in-the-Vale. Still, Kami hasn't suffered too much from not fitting in. She has a best friend, runs the school newspaper, and is only occasionally caught talking to herself. Her life is in order, just the way she likes it, despite the voice in her head.
But all that changes when the Lynburns return.
The Lynburn family has owned the spectacular and sinister manor that overlooks Sorry-in-the-Vale for centuries. The mysterious twin sisters who abandoned their ancestral home a generation ago are back, along with their teenage sons, Jared and Ash, one of whom is eerily familiar to Kami. Kami is not one to shy away from the unknown—in fact, she's determined to find answers for all the questions Sorry-in-the-Vale is suddenly posing. Who is responsible for the bloody deeds in the depths of the woods? What is her own mother hiding? And now that her imaginary friend has become a real boy, does she still love him? Does she hate him? Can she trust him?
OMG I absolutely loved this book, but my goodness Sarah Rees Brennan is a cruel, cruel woman who survives on the tears of her readers! Do your self a favour and check it out, but make sure that you have the second book ready to go because you are not going to want to wait to read the second instalment. The wait for the third and final book (September 2014) is going to be excruciating.
Publisher: Random House
Publication Date: September 2012
Format: Hardback
Pages: 272
Genre: Fantasy
Age: YA
Reviewer: Caroline
Source: Own copy
Challenge: British book
If You Could See Me Now by Cecelia Ahern
Readers and critics alike adore Cecelia Ahern for her lighthearted yet insightful stories about modern women and their often unusual situations. In If You Could See Me Now, she takes that theme a step further, offering us a heroine who is entirely believable, and the new man in her life who is, well, slightly less so.
Elizabeth Egan's life runs on order: Both her home and her emotions are arranged just so, with little room for spontaneity. It's how she counteracts the chaos of her family — an alcoholic mother who left when she was young, an emotionally distant father, and a free-spirited sister, who seems to be following in their mother's footsteps, leaving her own six-yearold son, Luke, in Elizabeth's care. When Ivan, Luke's mysterious new grown-up friend, enters the picture, Elizabeth doesn't know quite what to make of him. With his penchant for adventure and colorful take on things large and small, Ivan opens Elizabeth's eyes to a whole new way of living. But is it for real? Is Ivan for real?
If You Could See Me Now is a love story with heart — and just a touch of magic.
I have to admit that I felt a touch apprehensive at reading what was my first adult novel for some time, not to mention that it is a favourite of a good friend of mine. My apprehension was all for nothing. I loved the combination of contemporary setting, magical realism, laugh out loud moments and poignant, touching scenes. A lovely, lovely read. I will definitely be checking out some more of Ahern's work in the future.
Publisher:
Publication Date: November 2005
Format: Paperback
Pages: 410
Genre: Fantasy
Age: Adult
Reviewer: Caroline
Source: Borrowed
Challenge:
Honourable Mentions:
Jack's Amazing Shadow by Tom Percival and Memoirs Of An Imaginary Friend by Matthew Dicks.
Twitter Recommends:
A Dog So Small by Philippa Pearce (@dark_Fell), Dr. Bird's Advice For Sad Poets by Evan Roskos(@musingteacher), Who Framed Klaris cliff by Nikki Sheehan (@daydreamin_star)and The Perks Of Being A Wall Flower by Stephen Chbosky(@barbaralib0202).
Did you have an imaginary friend?
Are you as protective of your fictional friends as I am?
What are your favourite reads featuring imaginary friends?
Posted by Caroline
You May Also Like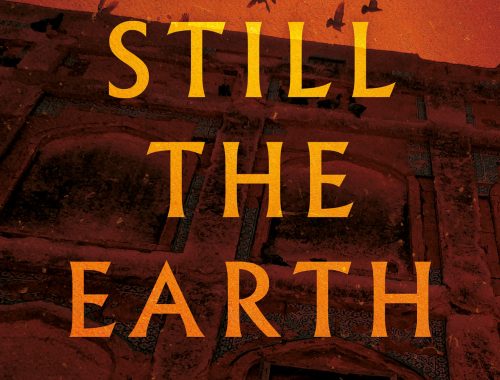 April 25, 2023
April 27, 2023