My Kindle Romance: Novellas
May 10, 2013
I think that it is fair to say that I have a teeny tiny book addiction *hides To Be Read pile and credit card statements.* But my addiction doesn't stop at stock piling books in case of a zombie apocalypse. Oh no, my reading habits also border on excess.
It is not uncommon for me, once hooked by a story, to read a book in a single sitting. I'm not so much a fast reader as a persistent one, and I'd rather be sleep deprived due to reading, than tossing and turning in bed wondering what is going to happen next. Because I recognize my own weaknesses, and my occasional premeditated decision to read a book in its entirety, and I also need to get some sleep, I love reading novellas.
The other fantastic things about novella is how they can either give you a taste, for a writers style, or a particular genre, or provide additional content to an already beloved fictional world.
Not to mention that they are cheap, most of the novellas I've bought have been less than a pound, and many authors provide novellas as examples of their work, or as extra content, for free.
Below are a selection of novellas I have enjoyed recently.
Submerging yourself in a genre.

A Riverting Affair:
Beauty and the Clockwork Beast-Lily Lang
Rose Verney wants to fulfill her father's dying request: to complete construction of the teleportation device he designed. Knowing just who can help her succeed, she seeks out Sebastian Cavendish, her father's brilliant former student. Sebastian hasn't left his home since he returned from the Civil War. He's a broken man, his prosthetics a reminder of the terrible destruction his inventions brought to the battlefield. He wants nothing to do with Rose and her father's masterpiece, but when she barges into his abandoned lab and begins construction, it's everything he can do to resist getting involved. Especially when she charms her way into his monstrous heart.
Demon Express-Candace Havens
Professor Maisy Clark, professional demon hunter, is on the trail of an evil scientist responsible for the deaths of hundreds. Julian is worse than the monsters he creates, but he's also obsessed with Maisy and willing to kill anyone who gets too close to her. Just when she thinks she has Julian cornered, the sexy Marshall Jake Calloway insists the investigation is his, and everything goes to hell. Maisy came to Texas to corner the scientist whose macabre experiments have taken so many lives, and Calloway is just another distraction she doesn't need. Julian is her responsibility, one she's not about to share. Even if Calloway can help, Julian will know Maisy is falling for the Marshall, and she's not willing to risk his life. The
Clockwork Bride-Patricia Elmer
When engineer Aida Mulvaney attends a masquerade ball at the home of a staunch Luddite earl with a personal vendetta against her father's company, she doesn't expect to end the night married to the earl's son Julian Capshaw, a brilliant engineer in his own right. The marriage will allow both of them to pursue their love of science, without interfering parents and ridiculous social stigmas. Though they escape to the Continent to start new lives, Julian's father will have none of his heir's disobedience. Before long, a marriage begun for the sake of convenience becomes a union of passion, but will it survive the machinations of an earl determined to destroy everything they love?
What first attracted me to the genre of Steampunk is the uniquely beautiful esthetic, that wonderful combination of historical elements, corsets and top hats, combined with fantastical technologies and modern scientific thinking.
Although only a small collection, of three novellas, A Riveting Affair gives a fantastic taste of Steampunk romance. This eclectic anthology features a fairytale retelling, a more traditional feeling historical romance and a paranormal romance, with blimps, steam engines and teleportation devices, in locations as varied as New York, London and Texas, all wrapped up in a copper wire and mahogany package.
While I enjoyed all three tales, I was particularly fond of Demon Express. The kick arse, monster hunting heroine, a Stetson wearing hero, and a detailed and intriguing back-story, had me craving a full-length novel. I will certainly be checking out the authors back catalogues for such.
Verdict: A tasty plate of Steampunk treats.
Copy provided by Netgalley in exchange for an honest review.
Revisiting beloved worlds.

Die For Her- Amy Plum
Set in the romantic and death-defying world of the international bestselling Die for Me trilogy, this digital original novella follows Jules, a brooding, immortal French artist who has fallen in love with his best friend's girlfriend.
Jules Marchenoir is a revenant-an undead being whose fate forces him to sacrifice himself over and over again to save human lives. He's spent the better part of the last century flirting his way through Paris, but when he met Kate Mercier, the heroine from Amy Plum's Die for Me trilogy, he knew his afterlife had changed forever and he had found the love of his life. Until Kate fell for his best friend, Vincent. Now Jules is faced with an impossible decision: choosing between his loyal friend and a love truly worth dying for.
For fans like myself, the desire to reread the series prior to the final installment is strong, however the means are lacking (the TBR pile is teetering). While the publication sits between book 2 (Until I Die) and, the highly anticipated, finale of Amy Plum's Revenant's trilogy, If I should Die (Oh my gosh I CAN'T WAIT!!!!), It is in actual fact a fabulous little recap of the events from the very beginning of the series.
We get to delve even deeper in the romance of our favorite French couple, learning more about the strength of Vincent's feelings for Kate, and discovering just how and when Vincent feel in love from the outside perspective of the man who knows him best, Jules, his best friend and fellow revenant.
Last, but in no way's least, we are treated to an enlightening look at mind of gorgeous, too many women, too little time, Jules Marchenoir. We learn more about his strength of character, his loyal friend ship and the depth of his feelings belied by his flirtatious exterior. I was certainly fooled by his fun front and I look forward to a point in the future where I can reread the series with this added perspective.
Verdict: While only a sixty-page novella, this little look at the revenant world is a mini revelation.
Discovering new authors

Sleeping Handsome-Jean Haus
Paige should have never agreed to do her best friend's project. Reading to a boy in a coma is just plain creepy, but her English teacher somehow thinks her acting skills make it the perfect community service match. But when she finds the boy's journal hidden among his books, things turn from creepy to interesting.
This predictably sweet, but satisfying novella was the perfect between novels palate cleanser.
Though Zach's painfully candid diary entries, Paige comes to learn as much about her own self-absorbed and shallow nature, as she does the silent young man lying supine beside her.
Verdict: A feel good, hug of a novella, with a surprising amount of character development. The perfect bedtime story.
Posted by Caroline
You May Also Like
April 27, 2023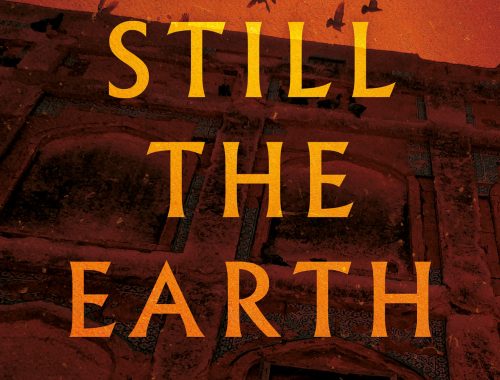 April 25, 2023